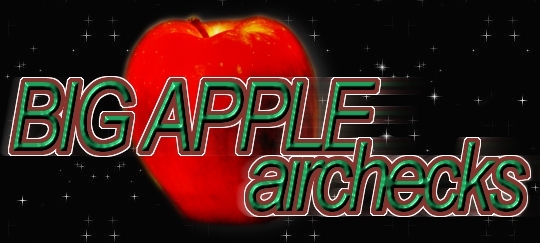 Welcome to Big Apple Airchecks on the Web! My name is Matt Craig , and I've been collecting airchecks since 1976. My collection is mostly scoped (which means that the songs, newscasts and commericals are edited), unless you see "Unscoped" (US) next to it (Unscoped means the songs, jingles, DJ talk, newscasts and commericals are intact-nothing is edited).
The collection is broken up into Assorted Airchecks, the main collection by state, and what I can tape for you, AM and FM.

Much of my collection has never been traded before. I do contribute to www.airchexx.com and www.reelradio.com, so check out my pages at those two sites.
I can now dub airchecks on CD or tape, just let me know which one you prefer. I'll take cassettes or CD's in trade, and I prefer CD's.
I use TDK, Maxell or Sony regular series tapes for trading, unless you ask for something better, and I will therefore ask for something better too. I won't send out tape cases unless asked to, but please pack the tapes so they won't break in mailing. So you keep your cases, and I'll keep mine...thanks.

I also collect bumper and window stickers, baseball caps, posters, buttons, and any other radio promotional materials.

If you don't have anything to trade, I will sell cassette or CD airchecks. A C60 is $8, and a C90 is $10, and that includes postage. CD's are $10 each. Quantity discounts are available with a minimum order of 8 C60's or 10 C90's or 10 CD's. Payment should be by cash or postal money order. Sorry, no personal checks.
Want something, but don't see it listed? I may be able to get it through one of my many resources, be it a fellow aircheck trader, or a contact at a radio station.

When trading my airchecks, I ask that I be given credit for the original aircheck I sent you, and I will of course do the same for you. If we haven't traded before, I'll ask you to send your package here first, and when I receive it, I'll send yours out. Please don't take this rule personally. This prevents me from getting burned from "dead-beat" traders.

I look forward to hearing from you, and happy trading!